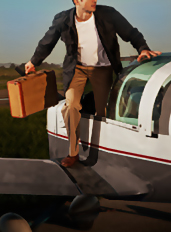 We've been thinking: this summer, a little sightseeing is in order.


The Hoover Dam. Yosemite. The world's largest fake Eiffel Tower. All things you'd like to see.
And ideally, you're seeing them from the window of a private plane.
Introducing Mauiva, a company offering road-trip-style tours via private plane, available now.
It's a classic summer sightseeing trek, with the Winnebago swapped out for a turboprop plane. Your itinerary is a Wonders of America checklist that would make the Griswolds proud—the Grand Canyon, Niagara Falls, an obscure desert haunt called Las Vegas—but now you'll be shuttling between them in an air-conditioned cabin with an occasional open bar and ample time for high-altitude diversions. (By which, of course, we mean catching up on Breaking Bad.)
Mauiva will have prearranged hotel rooms and sightseeing tours for after you land, but if you're okay with skipping the Hoover Dam, you can swap the tour for a prebooked rental car and spend a few extra hours at the craps tables... or hit the road with that mysterious stranger in the seat next to you.
She'll show you things, too.