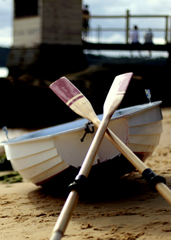 It's nice out. You're thinking about the sea.
The fresh air. The shimmering waves. The swimsuited maidens on the starboard bow.
All of which is great, as long as you have a boat.
Or the courage to build one with your own bare hands...
Introducing the
BBCo Classic Boat Kit
, a flat-packed kit that allows you to construct your own formidable dinghy, available now.
Don't get us wrong: this is no replacement for your yacht (especially in the landing-seaplanes-on-deck department).
But while that vessel is in the shop, you can order this online to tide you over. The kit will arrive with all the required boat-fortifying materials: custom-cut plywood, premium sealant, even cups and stirrers for mixing your own glue. (Tip: don't confuse your glue cup with your cocktail shaker.)
You'll want to carve out some time to construct it—with the help of the included detailed instructions (and, of course, your former Navy SEAL butler). Then, all you'll need to do is paint it (yes, flames are okay), acquire some oars (these tend to be important) and invite over a few slinky landlubbers to spend an afternoon commanding the nearest body of water.
No, your hot tub doesn't count.