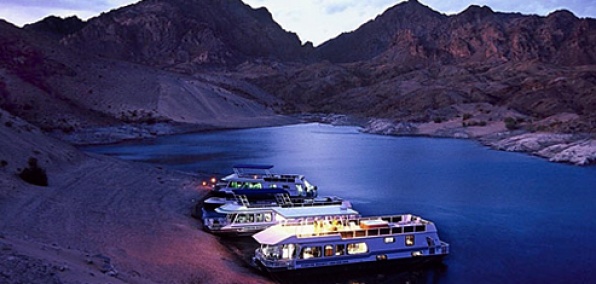 The sun is out. The air is hot. You haven't taken off your sunglasses in weeks.

Which means it's time you skipped town and escaped as far from civilization as possible.

In fact, you might want to give up dry land entirely...

Introducing Floatels, a new pack of floating suites on Lake Mead, taking reservations now.

It's an aquatic villa anchored just 45 minutes outside of Las Vegas, in the northern arm of Lake Mead. So when you've finished up a monster blackjack run with four of the Dallas Mavericks' starting five, you'll have a place to celebrate. Specifically, a place with an onboard waterslide, a rooftop hot tub and a built-in gas grill stocked with as many steaks as you need. (For some reason, Nowitzki's always hungry.)

One thing your houseboat doesn't have: an engine, so you'll want to rent WaveRunners and waterskiing rigs from the marina to investigate the rest of the lake. There are 550 miles of shoreline to explore, so you won't have trouble finding a secluded strip of beach. And when you're done there, you can make your way to a certain cove famous for striped bass fishing.

For whenever you run out of steaks.