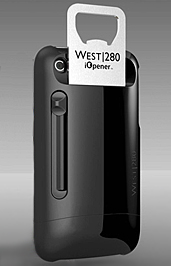 Dad.
Come Sunday, you'll need some token of appreciation to give the man.
And in our experience, nothing, and we mean nothing, says "filial duty" like a beer-opening iPhone case.
Introducing iOpener, an iPhone case that doubles as the world's most technologically advanced bottle opener, available now.
It's the perfect way to introduce Dad to the world of Facebook and Twitter: through beer. On the surface, it just looks like a carbon fiber iPhone case that happens to have a bottle opener grafted onto it—and really, that's what it is. (Unless he's got Angry Birds.)
But when the time comes to commemorate your drink in social media form, you can show him the corresponding app, BevConX. (Really. That's the name.) It notices every time either of you opens a beer (you'll be borrowing the phone a lot), then asks what you're drinking and lets you immortalize your choice of brew with a tweet or Facebook post—bringing your dad gloriously into the 21st century.
But mostly, it opens beer.