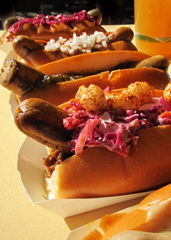 Your outdoor cooking bona fides are well established. Your grill is welded from an old backhoe shovel. You use napalm instead of lighter fluid. You have a lumberjack on speed dial for when your stockpile of fruitwood runs low.
Now, you just need some meat.
Enter the new line of
Hot Dogs from
Red Apron Butchery
, available now at the Penn Quarter and Wharf markets on Thursdays and the weekend markets at H Street and Dupont.
Far from your average ballpark dog, these have a little something extra. Like the
Baconwurst
, which combines beef, pork, bacon and smoked beer; or the
Franz
, a brat stuffed with Vermont cheddar.
And while you can grab them by the half-dozen to get you through the week, you'll want to give them a week's notice for a bulk order of 50 or so, the better to serve your next backyard Slip 'N Slide party.
Of course, if your grill is in need of some repairs (and your welder is on vacation), you still have recourse. And it comes in the form of a hot dog cart named Frank that they're rolling out every day at Market Square in Alexandria and Thursdays at the Wharf Market.
There you'll get that same Franz dog simmered in stout and topped with stout-braised onions and mustard, or other dogs like the
Frankie Jr.,
slathered with BBQ brisket, coleslaw and BBQ pork rinds.
Which you should totally dip in stout.