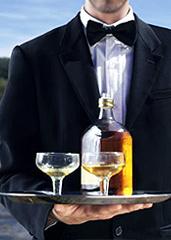 It's not getting any colder out, so let's talk pool parties. Yours are legendary.
The imported sand. The handwoven koozies. The floating alligator stage for T-Pain.
They're also a lot of work.
But not for you...
Meet
AirRun
, an iPhone app that lets you hire people to do those things you're too busy to do (like set up pool parties), available now.
Think of this as your personal outsourcing company for those vital weekend responsibilities—like picking up your life-size J.J. Barea ice sculpture.
So fast-forward to this weekend. You're planning a modest 50-person soiree in your backyard, so you'll need someone to do... everything. Refill the ice, hose down the Slip 'N Slide, pick up Michael Phelps from the airport for celebrity Marco Polo.
You'll download this app and enter in your location and the tasks you're looking for. You'll also give them a deadline and say how much you're willing to spend.
Then after receiving a list of potential workers and checking their ratings, you'll choose one. He'll come over, set up the party, muddle the mojitos for you during it and when it's over, you'll pay him in cash or through PayPal.
Feel free to offer him a mojito.