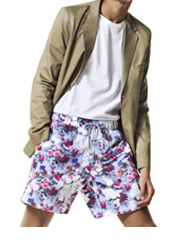 Your personal style formula: stay timeless while staying ahead of the curve.
And while the world's best-dressed physicists try to solve that particular paradox, we should alert you: a sartorial wormhole is about to open.
Be prepared to be transported to Fall '11.
Introducing the
Topman Pop-Up Shop at Space519
, opening Friday as the only place in town where you can start adjusting to life in a post-Topshop Chicago.
Consider this a preview of the upcoming British invasion. Topshop—and its Topman store-within-a-store—will establish a beachhead on Michigan Avenue starting this September. When they do, the scenes will be dire—crowds jammed in, madness in the aisles, blows exchanged over a simple Guernsey sweater.
So until the end of July, this pop-up shop will give you early access to a condensed version of the men's line. It's got everything for weekends at your Michigan lake house: penny loafers, relaxed madras button-downs, hibiscus-flowered board shorts. Basically, what you wore to Buckingham Palace last month.
But you'll find that the collection's also a mix of up-to-the-minute trends (T-shirts, distressed denim) and British classics: tapered suits, Welsh fleeces, even the occasional James Bond–worthy tuxedo.
Martini not included.