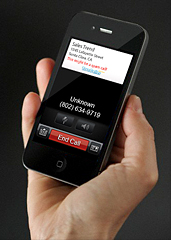 Let's think back to your last long weekend.
You finally set aside some time to unwind at home, when Rumsfeld rang you to get some extra details for the second volume of his memoir.
Let's make sure that doesn't happen again.
Presenting
TrueCaller
, available now for your smartphone to make sure you never ill-advisedly pick up a mystery call again.
Think of this as caller ID for the entire world. Here's how it improves your life: anytime your phone rings with a number outside your personal contacts, this app instantly scrolls White and Yellow Pages from around the world, as well as crowdsourced data from its users, to display the caller's name on your screen.
You can also opt to connect the app with your social media networks, so you'll be able to see the second your brother calls you that his Facebook status is "stuck on median of New Jersey Turnpike" and you'd better pick up.
But if it's not your brother, but rather a pollster (again), the app will cross-reference it with its database of problem numbers and alert you that this might be a spam call.
If it's the West Wing, you still better pick up.