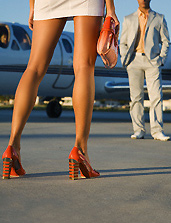 Summer: almost here. The world: soon to be yours.
And here to help you make it so: the locals...
Introducing
Triptrotting
, a social network connecting you with hosts in cities around the world, online now.
First, a few caveats: the site's primarily targeting college students, so your host in, say, Paris just might be an eager
femme
at home from the Sorbonne. (Actually, that's probably not a bad thing.) Oh, and you have to use your company email address for some reason.
Once you've set up a profile, the site will scour the globe for potentially compatible guides who can show you around one of roughly 173 cities. More importantly, each one will be matched to your personality, based on an up-front questionnaire—so you'll know whether they're more into exploring the local cocktail scene or long walks on Egyptian beaches.
And if you sign up to host, you can introduce, say, a touring troupe of Javanese dancers to your own humble burg.
You've got a big couch.