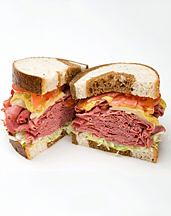 The working lunch.
Your sleeves are rolled up. The whiteboard is your canvas. The interns are scribbling down your every thought.
At this point, you're two things: 1) a productivity machine; 2) starving for a pastrami on rye...
Presenting
Gandolfo's New York Deli Dallas
, an NYC-style deli and bagel shop on wheels, rolling out next Wednesday.
So imagine it: you're in the zone at the office, and suddenly you find yourself craving a sandwich—preferably one you can eat with one hand while signing contracts with the other. That's when you jump
on Facebook
and see where these guys are parked. Your quarry: an armored car turned "cab," replete with yellow paint, black-and-white checks and the New York City skyline painted on. (They also call it "Brooklyn," if you'd like to introduce yourself.)
Now, you could be lured by the Nathan's hot dogs. But instead, you'll opt for the simple pleasure of a
Knuckle Sandwich
(pastrami, three cheeses, mushrooms, olives and mayo) on sourdough bread (baked that morning in the truck). And like that, you're fueled until your 5 o'clock squash game with Jerry.
And if, however improbably, you're facing one of those mornings when you're recovering from an equally efficient client dinner, they'll be serving hot breakfast sandwiches and bagels.
It's BYO Advil.