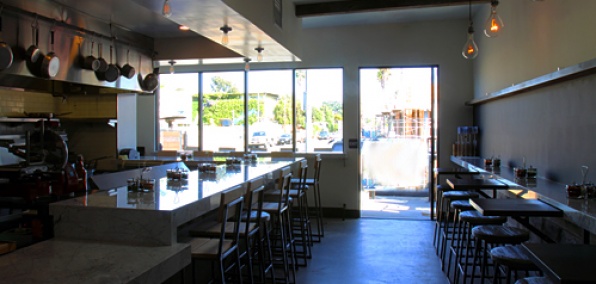 A quick history of LA's two Oscars:

Oscar #1: a little gold man who creates worldwide pandemonium every year. You know him intimately.

Oscar #2: a friendly Venice man (surname: Hermosillo) who runs a raucous little wine bar, Venice Beach Wines.

Well, now Oscar #2 has a new beer bar next door. So he's your new favorite Oscar.

Welcome to Oscar's Cerveteca, home to beer, fried pickles and buttermilk pie, now soft-open in Venice.

It looks like your producer friend's modern Venice loft in here, with a cozy patio out front and a minimalist interior cut with sharp lines of marble and concrete. Only this one's got way more beer. More than 100 labels by the bottle, in fact. (Or it will when the liquor license comes through, hopefully in a couple weeks—it's food-only until then.)

Come by around sundown with your friends and hang outside if you're just here to try their house-brewed Oscar's pilsner. Or work your way toward the counter inside if you'd like to pair it with ceviche, Norma's Chipotle Beer Shrimp and fried pickles.

And because you never forget about dessert at a beer bar, you'll be glad to know they've got two kinds of pie—banana cream and buttermilk.

More beer also works.