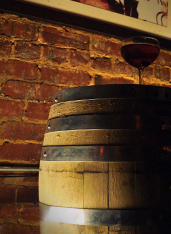 You've paid your dues on the cocktails circuit.
Morning-after Bellinis on the banks of Lake Como. Experimental absinthe hybrids in Amsterdam. You even tried a rum and Coke once.
And now, it's time to meet your next liquid conquest.
The only caveat: it takes about six weeks to make...
Introducing the city's first and only
Barrel-Aged Cocktails
, a rotating series of classic cocktails aged for a month and a half in whiskey oak barrels, available now at the Iberian Pig in Decatur.
You've been to this place before—sidled up to the room-length bar shadowed by exposed brick and towering walls of rare booze. Respectfully observed the old-school "bar rules" scrawled on the giant chalkboard. You may have even gone a few rounds with the
cigar-infused bourbon
they were tinkering with back in the day.
So tonight, you'll find yourself in familiar territory. Only this time, you'll ask for the Blackthorn by name. The ensuing melee: a martini glass filled ever so judiciously with gin, Dubonnet Rouge and Kirschwasser that's six weeks in the making. The whole thing results in a smoky, super-mellow cocktail with a sweet oaky finish.
And you'll be happy to hear that once the Blackthorn barrel reaches its bittersweet end, a fresh cask of Negronis is currently aging and ready to spring into action at a moment's notice.
Actually more like a six-week notice, but you get it.