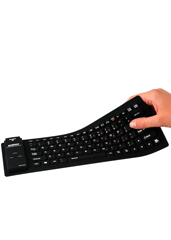 It's a common problem for you in the warmer months: you want to jet ski, but you also want to answer a few emails.
Here to help is
freeKEY
, a portable, wireless, roll-up keyboard for your smartphone, iPad or Android device, available now.
So picture it: your summer is booked. June: Nantucket. July: Antigua. August: your apartment's rooftop pool. And somewhere in there, you may find yourself under a flood of emails and projects that you'd probably rather do over a regular keyboard (oh, those big hands of yours).
When that email comes in from Ted in accounting that simply can't be avoided (in spite of your chat status being set to "wooing"), you'll pull this out. It works using Bluetooth, which means you can connect it to your iPad or Android tablet to breeze through work with all the dexterity you normally command on a full QWERTY keyboard.
Plus, it rolls up (fits very well in a beach bag), has a range of up to 30 feet and is even water-resistant.
Although you should probably get out of the pool to be safe.