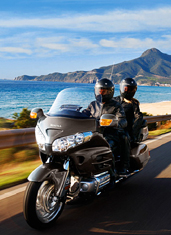 Quick, imagine it:
You've found yourself in an urgent third-act-of-a-Hollywood-romantic-comedy situation.
In other words, you've got a wedding to stop. Across town. In LA traffic.
Not a problem: call your motorcycle chauffeur and tell him to step on it.
Introducing
Moto Limos
, here to duck and weave you through Los Angeles traffic in style, available now.
Think of this as a limousine in motorcycle form. A pocket limousine, if you will. Complete with a chauffeur and a wall between you and the driver. (Note: there is no wall between you and the driver.)
You'll want to keep this in mind for any zany, rom-com-type situations like the one mentioned above. Or when you need to get from Westwood to Pasadena in 10 minutes for a corporate takeover. Or to a Lakers playoff game. Or a Dodger Dog.
They've got a few different membership plans to choose from, depending on how many motorcycle-limo-related emergencies you generally find yourself caught up in each month. (Typical month: three to five.)
And as for your chariot: it's a six-cylinder Gold Wing, with room to store a couple of bags and built-in XM radio.
Every climax requires a proper soundtrack.