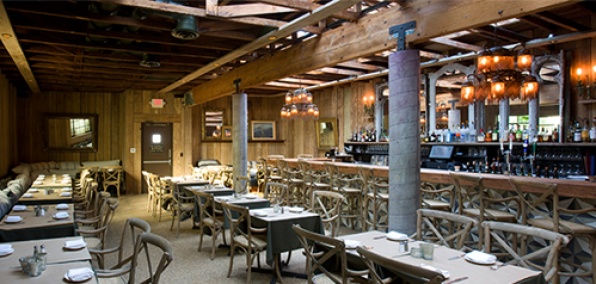 You've capped off your week in
graffiti-cloaked rock coves
,
insane basement circuses
and the occasional
garden paradise
.
But lately your Friday nights have been lacking the rustic flair that could only be found in... a Silver Lake barn.
Welcome to
The Bar at Cliff's
, a new drinking shed stowed in front of the lush patio restaurant known as Cliff's Edge, covertly open now.
Basically, if you've ever been to Cliff's Edge, you know how great the patio is for a Silver Lake dinner date—and how there has never been a single reason to go inside. Well, look at it now, festooned with reclaimed wood, old Moroccan tiles and '30s lanterns—it's sort of like Seabiscuit's vacation barn in Provence.
Come around sundown when your date's less dinner-y and more... stiff-drinks-y. Find a corner table as the last rays of sunlight trickle through raw beams and skylights above, briefly illuminating
your first round of yuzu-accented Manhattans
.
Order some
Moules Frites
and
Duck Foie Gras Parfait
at some point. The kitchen closes by 10pm, but the bar will stay open until 2am, allowing you to stretch out your evening with a couple of martinis spiked with Lillet and lemon oil.
Barn-martini dates are the best.
Note:
<!--[if gte mso 9]><xml> Normal 0 false false false EN-US X-NONE X-NONE MicrosoftInternetExplorer4 </xml><![endif]--><!--[if gte mso 9]><xml> </xml><![endif]--><!--[if gte mso 10]><style> /* Style Definitions */ table.MsoNormalTable {mso-style-name:"Table Normal"; mso-style-parent:""; font-size:10.0pt;"Times New Roman","serif";}</style><![endif]-->The Bar at Cliff's, now soft-open next to <a target="_blank" href="http://www.cliffsedgecafe.com ">Cliff's Edge</a> (new food and cocktail menus debut May 5), 323-666-6116