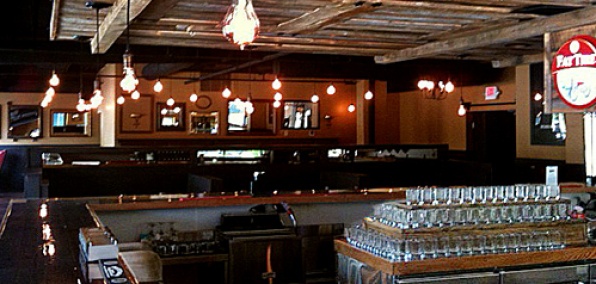 Here's one for you.

The Braves are at home on a Saturday night. Your Berkshire pig roast in the Gold Lot made the jumbotron. And the good guys just clinched a victory.

By all accounts, a good start. But somewhere between the bottom of the ninth and that unyielding urge to keep the momentum going without pause, it hits you...

You're still downtown.

Good news: we may have stumbled upon a shiny new corner bar to help you out with that. It's called Hill St. Tavern, and it's soft-opening Friday at the Pencil Factory Flats.

This is where you'll go when the predilection for cold beer and thick slabs of rib eye outweighs the postgame urge to make a beeline for any part of town that doesn't involve gold domes and Hard Rock–related cafés. So to keep things moving, you'll breach the big glass doors at the corner of Decatur and Hill, settle into a thick wooden chair at the huge wraparound bar and consider your options.

Among them: one of 20 tap handles backed by the likes of Fat Tire, Duvel and König Ludwig Weissbier. Of course, you could always bank left and make your way under the canopy of dangling bulbs to a cozy corner booth for some fish and chips, or a Guinness-Marinated Rib Eye.

So like a pit stop, only with Guinness-marinated rib eyes.