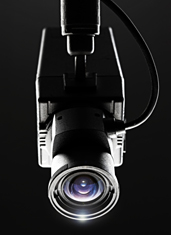 Your house is like a high-security fortress.
The dobermans. The vault-style doors. The moat.
But until now, you haven't really called in the big guns—you know, like your laptop.
Meet
Witness Remote
, an app that turns your computer into a home surveillance system, available now.
Allow us to break it down for you. You'll be planning a vacation to Napa, but you're concerned: you hate leaving your lock of Nolan Ryan's hair alone for a weekend. (It's in an air-tight display case.)
So to be safe, you'll want to download this app for your computer and iPhone. Then, before you head to the West Coast, position your computer so it's facing Nolan's locks, and turn on the app—it can detect any movement within the room.
Then, if anything's amiss—and we truly hope this doesn't happen—you'll get a text message. It's an alert from the motion sensors—including live video of the scene. You'll calmly dial Dallas County's finest, and within minutes your burglar will be terminated (meaning escorted to jail).
You might want to bring home some vino for the fuzz.