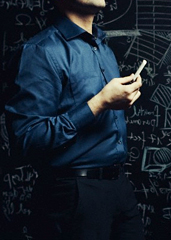 The next cocktail-making robot isn't going to build itself.
You've known this since the fourth grade.
So you waited...
And today, we happened upon a site that'll help with the dirty work...
Introducing
Ahhha
—a new social brainstorming website where you can post your most random ideas, turn them into reality and maybe turn a tidy little profit—now online.
Let's say an idea hits you, or you even just have an inkling that's not fleshed out (self-shining shoes). All you have to do is type it into the site to claim it. Then, other people will start weighing in—by voting up or down, ignoring it or adding suggestions.
Or take your JeevesTini 2000 robot: since this is something you'd likely want to keep under wraps, you can limit your privacy level to your most trusted advisers. Then, as more people vote and comment, Ahhha's proprietary algorithm/secret website sauce will pick up the ideas with the most promise.
Once your idea hits a certain threshold, Ahhha will move to monetize it—anything from creating a virtual marketplace for it to licensing it to a major company.
You get a guaranteed percentage of the deal, and the remainder will be divvied up according to each person's level of input.
The world could definitely use a boozy robot.