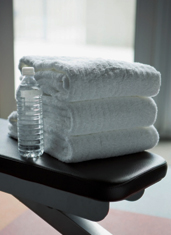 You've done many things to squeeze in a workout when you're not near a gym.
Deadlifted the copy machine. Spearheaded a 5K pub crawl. Bench-pressed a Jonas brother.
But it's become tiresome. You need a portable drill sergeant.
Which is why you'll be happy to hear that the notoriously sweat-tastic Barry's Bootcamp has opened up a new location, and it's... wherever you are.
Presenting
Barry's Bootcamp Live
, a series of downloadable MP3 workouts, now available online.
You're familiar with the mystique surrounding this workout regimen. This is the kind of class where students hit the cardio and weights so hard that they occasionally lose their lunch right on the floor. (In fact, it used to earn them a free T-shirt.)
You can expect similar intensity from these MP3s. Each one is 60 minutes of an instructor yelling directives at you about curls and crunches, focused on your abs one day and your arms the next—only through your earbuds.
So whether you're stuck at home or in a beachside hotel, all you need is access to a treadmill and some weights, and it's like Barry's has (belligerently) come to you. Only now nobody has to know if you hit pause to take a call from your boss.
At least... we don't think they'll know.