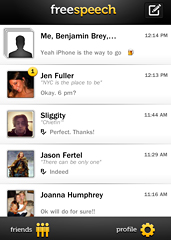 The iPhone.
In many ways, it's changed your life.
And if you came from a BlackBerry, losing your BBM group chat was (sadly) one of them. Ever since then, you've been looking for a way to fill that void.
Good news: we just found it.
Introducing
Freespeech
, a brand-new app that basically allows you to group chat à la BBM on your iPhone, now available.
You'll want to use this for a couple of different reasons. First, once you and your friends download it, it's your new way to instant message the day away, free of charge (feel free to be at your most verbose self). Like any social media platform, you can create a profile, upload a headshot and keep the people in your life informed of your goings-on via status updates (your "I am a golden god" pronouncements will do well here).
Another reason: this is the first SMS app that allows those without the app to still message you (say, those friends you left behind in BBM world). Once you've downloaded it, you'll be given a text-only phone number (read: no calls) that people can then save as your text contact, and all their messages will be sent to this app for you to seamlessly chat over.
Also doubles as an "I don't want this person calling me" number to hand out at the bars.