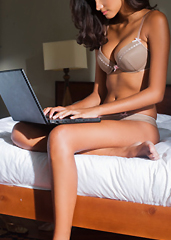 You tend to stay busy.
And despite your best efforts, you can't always be there in person when it comes to deploying life's more... discreet propositions.
Sure, you could always drop her a quick email. Pop off a text. Send a carrier pigeon.
But allow us to suggest a better way.
Introducing
Tokii
, a new website devoted to spicing up the daily exchange of sweet nonverbal nothings between you and your special someone(s), now available in beta.
So let's say you've just left the ribbon-cutting ceremony for the aquarium's new underwater brunch series (technology...). And now, you've found yourself back at your desk with a strong desire to suss out the evening's potential with that mermaid/hostess you just met.
Hop online, fire off a quick invite (it's the furthest thing from a dating site, so expect a fully creepster-free environment) and invite her to "play." The whole thing pretty much revolves around your specific and individual relationships as opposed to bringing the rest of the world into the fold (read: Facebook).
Which means that once you're in, the two of you can do things like line up your next rendezvous and hone in on each other's specific... needs, through a series of decidedly leading questions. Also of particular interest: the Trading Post, which is pretty much a built-in bartering system that lets you request and negotiate anything you want in exchange for anything she wants.
And we'll just leave it at that.