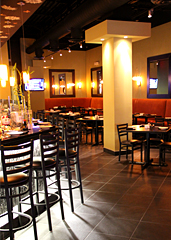 So the rainy season has returned.
And when the heavens unleash a monsoon-like fury, there's only one thing you can do: head for cover, and take comfort in a bowl of steaming ramen and fried chicken gizzards.
Conveniently, Yakko-San has reopened in North Miami, revived as a massive Japanese tavern with two dozen sakes and nearly a hundred small plates of Asian comfort food ready to keep you sated during the storms.
You always loved the gritty charm of the old Yakko-San, a
joint inspired by the Japanese custom of izakaya (loosely translated as "blowing off steam with pub food and endless sake"). The new space remains hardcore, but you'll find it's been decked out in mosaic tile, slate floors and a glowing sushi bar.
Y
ou'll want to pop in after work for a few pints of beer, spicy tuna rolls and
Octopus Pancakes
.
Take a spot at the 20-seat sushi bar (it also frames the open kitchen) and watch as a team of chefs churns out everything from
Kimchee Ramen
to
Beef Tongue Steak
with the balletic efficiency of a samurai troupe.
And if your date has a thing for
Lost in Translation
, you'll want to call a day ahead and reserve the shabu-shabu, the Japanese version of beef fondue.
Scarlett will love it.