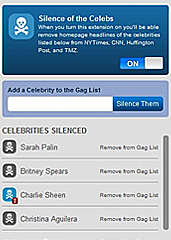 Everybody has one.
That person who, for reasons you'd rather not disclose, you just don't want to see, ever again. Not even on the Internet.
Well, today's the day. The day to delete that person forever. With a little help from, yes, the Internet itself...
Introducing
Silence of the Celebs
, a browser app for Chrome that literally erases your least-favorite names from the Internet, available now.
Now, let's be clear: you can't actually purge every mention of
Jersey Shore
from every last corner of the Web (at least not yet). But you can do the next best thing: have a browser-based guardian remove any Snookified articles from your favorite sites, and then reformat the pages so you'll never even know they were there.
So the next time you stop by CNN for a quick stock market/March Madness check-in, you can be secure in the knowledge that it won't be interrupted by breaking Kardashian-related news. And when you're ready to return to a world filled with #winning, you can click on the skull-and-crossbones next to your URL bar and turn things back to normal.
Or at least "normal."