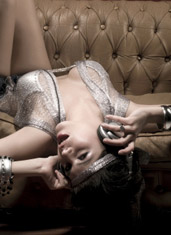 Benefit of the doubt, sure, we'll give it. But every now and again, something comes across our desk that just seems... suspect. In the most intriguing of these situations, an investigation is warranted, albeit a particularly skeptical one. We call it: "Skeptical Investigations" (copyright pending).
THE CLAIM

You've got a lot on your plate: filling out your bracket. Picking Pogues songs for your St. Pat's mix. Getting a birthday gift for Wolf Blitzer. You need one thing: focus. So when we heard about
BrainWave Tuner
—an app that allegedly changes your brain wave frequency to help you focus—we felt duty-bound to investigate. Skeptically.
THE INVESTIGATION

The app basically blasts different sounds based on your different needs. So there's "Relaxation" to help you relax, and there's "Earth Peace Night" to help you... broker peace in Libya, of course.
We tried it in a variety of circumstances, including but not limited to: before an executive accounts meeting, mid-screening of
Hall Pass
and during the crucial period between waking up on Sunday and enjoying a Bloody Mary.
The results: slightly better focus, but no noticeable boost in peacefulness. The most effective: the "Edge of Consciousness" track, which sounded like static and successfully induced sleep. Less successful was "Headache Therapy"—helpfully described as "a mix of low-theta (5 Hz) and mid-alpha (10 Hz) waves"—which, well, gave us a headache.
THE VERDICT

Not to besmirch the fine art of electroencephalography... but we get the feeling this might be less than scientific. If you need something to motivate you for a big presentation next week, stick with "Eye of the Tiger." But if you need something to lull you into a state of peaceful bracket-related contemplation, this might be it.
Note:
<a target="_blank" href="http://www.imoblife.net/brainwave-tuner/">BrainWave Tuner</a>, available now in the <a target="_blank" href="http://itunes.apple.com/us/app/brainwave-tuner/id328266349?mt=8">iTunes</a> and <a target="_blank" href= "http://downloadandroid.info/products/healthfitness/brainwave/brainwave-tuner/">Android</a> stores