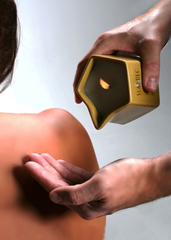 All right, so here's the thing.
Sunny and perfect this weekend...
Which means you're going to be outside, putting on cocktail croquet clinics, running post-pint 5Ks with leprechauns and batting cleanup for your co-ed rooftop wiffle ball league.
That being said, you're going to need a massage.
And if candle wax happens to be in the equation, so be it.
Or better yet, margarita-scented aromatherapy oil disguised as candle wax—behold the
Scandle Candle
, a hidden reserve of massage-ready body oil strategically masquerading as a candle, available online now.
There's not much we can say about this thing that it doesn't already say for itself, but it's basically the skin-hydrating, Swedish-massaging equivalent of dripping candle wax on someone (yes, it even comes with a pour spout).
So let's say it's Sunday. Right around sunset. You've just put the finishing touches on a marathon weekend of diurnal adult consumption (okay, day drinking)... and you're spent. Now might be a good time to summon that adventurous movie-night accomplice of yours, break out a bottle of red and light up an
Oatmeal Milk & Honey "
candle."
And before Harry even has a chance to meet Sally, you'll have enough gently warmed, drip-ready massage oil to at least get you through to the credits.
Or that one scene.