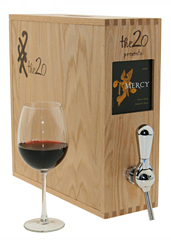 You've been there.
The occasional dilemma.
Want: wine.
Don't want: the whole bottle.
Or at least you want the option of not finishing it yet...
Introducing
the20
, your new state-of-the-art home wine-delivery system that stores a four-bottle supply of fresh-from-the-barrel wine and keeps it on point for up to a month, available now.
From the outside, it's a compact, briefcase-sized cask that's made out of red oak—so think of a slimmer, portable version of a barrel meant to be within easy access and not in a cave. But inside is a three-liter bag of wine connected to a patented stainless steel spout.
Once they deliver your wine, all you'll have to do is open up the cask, put the bag in the sleeve and connect it to the spout—then you'll have the equivalent of 20 glasses of wine to drink at your leisure. (They've timed the freshness to last a month, but they would've had you at a week.)
With their winery connections in Napa, Sonoma and the Central Coast, as well as their custom mobile packaging unit, you'll want to lean on them for the sourcing, too—think: Acorn and Woodenhead.
And if you think four bottles is child's play, they've got a nine-liter (case-equivalent) version that they generally save for restaurants.
You know, for Wednesday nights.