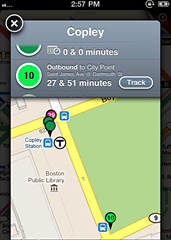 Let's face it: it can be tough to get around this city.
Especially when your driver is vacationing in Costa Rica with your chambermaid, and the need to get a detailed understanding of our city's buses and trains is suddenly humongous.
So we thought you'd be interested in
Nexmap Boston
, a newish app that provides real-time GPS tracking of our city's buses and other MBTA intel, now available for your iPhone.
If you were to slap a homing beacon on the undercarriage of every bus line in the city, filter all that information through the world's first interactive, fully scalable transit map and drop it into your pocket... well, you'd get something almost as useful as this, depending on your choice of homing beacon.
So say you find yourself fresh off a secret meetup with your ex, and you can't seem to pull yourself away from her tales of swimsuit modeling in Sardinia (or, for that matter, her legs).
If you know you'll be hopping on the bus—gotta get to that '80s glam-rock revival downtown—pull up this app on your phone. It seamlessly integrates a transit map with a GPS tracking system, so you'll be able to see the closest bus line to you, which street corner you'll catch the bus at and how many minutes you have until it arrives.
Then again, you could just get a cab.