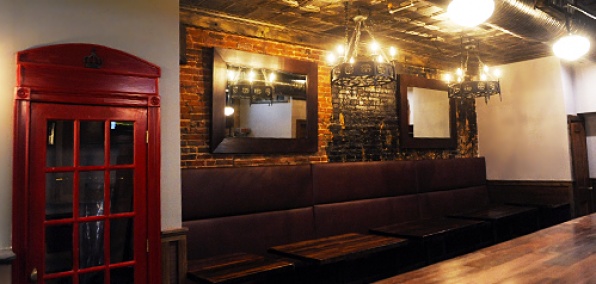 Your March so far: unpredictable weather, driving winds and the occasional drenching rain.

Time to turn to some folks who know about such things.

Which brings us to The Queen Vic, nearly here to give you yet another excuse to don your finest tweed (or, failing that, at least your Sex Pistols shirt), now booking private parties and slated to open in a couple of weeks.

This is the kind of homey British pub you might duck into in London, when you need a rest from the "Real Tony Blair" bus tour.

They don't take reservations, so you'll push open the door on the bright-red facade (you can even see it through the fog) and claim an oak high-top table for you and your would-be princess.

You'll order up one of the 20 draft beers (they're all British) while you peruse the menu of roasted marrow bones, potted duck or more run-of-the-mill fare like... beef heart. But you'll also find standards like a lamb/beef burger, fish and chips, and Indian-style butter chicken.

By this time you'll be dropping your H's and using terms like "punter" and "wanker" anyway, so you might as well mount a full frontal assault on their extensive gin list, paired with English mixers like Ribena and bitter lemon.

We hear that's how Kate Middleton likes hers.