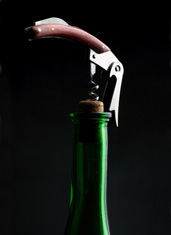 You don't want to brag, but you know a lot about wine.
Scientists have begun work on cloning your nose. Ernest Gallo considered you his consigliere. Your license plate reads "SDWYS."
But for some reason, you have trouble finding a good bottle of vino sometimes.
Well, not anymore.
Presenting
RedWhiteBOS
, a new mobile app that directs you to the closest wine emporium no matter where you are, now available on iTunes.
So picture it: you've picked up a date on your way to a dinner party. While extolling the virtues of old Spanish reds (few know more about Tempranillo pairings in the tri-town area), you remember that all of the wine talk is moot since you forgot to pick up a bottle.
That's when you'll call up this app, which uses your phone's GPS to find the nearest wine shop to you and supplies you with directions to get there. (You could've used this during your late-summer bender.)
And because you're always keeping an eye out for the next '61 Cheval Blanc, the app also features comments from shop owners on their standout wine bottles and styles.
Feel free to challenge their knowledge during checkout.