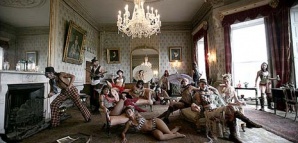 No matter how polished you are, life can sometimes spiral into a complete and utter circus...thankfully. (Too much polish can be pretty dull.)

Embrace the sheer carnival spectacle of Incandescent Wednesdays, kicking off anew residency this week at the Edison.

Through the alley, down the stairs and into the industrial heart of the cavernous nightspot, you'll now be greeted each week by the merry band of aerial-vaudeville-cabaret-ists known as Lucent Dossier (pictured above). The troupe takes over the stage (and the floor, and the rafters throughout) with a yesteryear-ish anything-goes act (from Prohibition-era barkers to timeless burlesque beauties) that you might avoid in any other alley...but it all seems overdue in a restored cave filled with turbines and generators that was once the city's first power plant. (All historic restorations should involve stunning women in the rafters and some gin in your hand.)

If you're ready to extend the illicit, out-of-control vibe to your next meal, there's the enticing new Carnival Platter, stuffed with throwbacks to an unchecked childhood of overindulgence—like The Elvis Sandwich (no explanation necessary) and Deep-Fried Twinkie Popsicles (ditto).

Because Wednesdays could use some overindulgence.