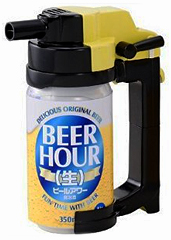 It's a problem that has haunted all of mankind since the beginning of time.
Or at least since aluminum was invented.
We're speaking, of course, about how to make the perfect pour from a can of beer.
But today we present to you the solution: introducing
Beer Hour
, a new device that uses a healthy dose of Japanese ingenuity to transform your humble beer can into its own draft-beer-serving mini keg, now available online.
First, we should put this out there: you have nothing against drinking beer from the can. And yes, you'll still be able to enjoy the rush that comes with cracking open a cold one. (Not to mention the rush that comes with dropping that empty cold one into a recycling bin.)
But sometimes, when the good times are rolling and the chicken-fried foie gras steaks are frying up, you want to turn your 12-ounce can of refreshment into its own kegerator.
That's when you'll grab your can of Bud Heavy, hook on this pitcher-like device, hit the aeration lever (powered by two AA batteries) and pour. As you do so, the beer will come out smooth with a rich and frothy head, just like keg beer.
You can also use the Beer Hour with nonalcoholic beverages, and even 16-ounce cans.
Which is good news for your tallboy Shasta parties.