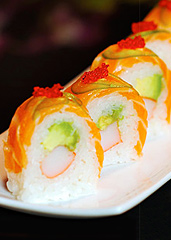 Food trucks.
They're fun. They're tasty. They don't always require utensils.
But amidst all the tacos, burgers
and cigars
,
sometimes you find yourself wanting something more. Something raw. Something that wouldn't be out of place on the streets of Osaka.
Something like
The Red Koi
, the city's first sushi kitchen on wheels, rolling maki while rolling through the streets of Miami, debuting this Saturday in Coral Gables.
Basically, this is your chance to bring a bit of Tokyo street food to your next commute home. The truck is brought to you by the Gables restaurant of the same name, so you'll find some of the sit-down joint's greatest hits: Bangkok Shrimp Tacos, Shrimp Shumai, Pad Thai, Lychee Lemonade and sushi bento boxes made to order.
And they've also imported some of the restaurant's sleekness, with flat-screens on the side of the truck showing menu items, and the steady thump of house and lounge music to accompany all that nigiri.
After you've
found its location on, yes, Twitter, you won't have a hard time spotting the truck―it's red and black, and has a giant red koi fish on it. (A bamboo dojo would've been cumbersome on Biscayne.)
Come this weekend, however, you'll find it on Miracle Mile in honor of Carnival on the Mile, merging the vagrant appeal of a truck with the stationary ease of an old-fashioned restaurant.
Crazy, we know.