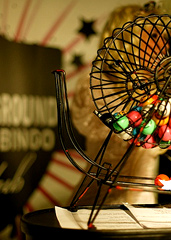 You can't explain it.
But your after-dark predilections have suddenly... evolved.
Models, bottles, shots with Verne Troyer—it just isn't enough anymore.
You need something truly crazy. You need bingo cards.
Introducing
The Underground Rebel Bingo Club
, a secret weeks-long party from your friends across the pond, now prepping for their LA arrival on April 2.
As legend goes, this party started in a church basement, somewhere under London. There were drunken shenanigans. There was dancing. There were church pews. There was a bingo caller. So, picture that... only in Hollywood.
It won't be in a church this time, so far as we know. But they like to keep the location under wraps, so if this sounds like your thing, you'll probably want to start your virtual stalking now. (Namely: follow them
on Twitter
, or go to their
Facebook page
and RSVP to be the first to know when tickets go on sale.)
They'll be in town for a few weeks, and if you're lucky you'll win some hard cider, a camera or a random cat costume before they disappear into the night. Like it never happened.
Which is your general preference when it comes to bingo.