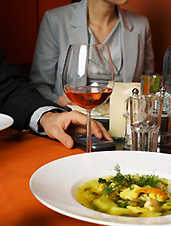 Breakfast: kind of overrated in the importance department.
Lunch, on the other hand, is where deals get done.
So we found a site that gives lunch the true power and recognition it deserves...
Introducing
LetsLunch
, a new networking service in existence to introduce you to the money men, movers and shakers of the moment, all over a club sandwich or two, accepting new members now.
If you're thinking this sounds suspiciously close to online dating—or like a yenta with all the connections of a LinkedIn—it's actually way more scientific than that (and no doctored photos come into play). In fact, the guys behind LetsLunch employ all sorts of algorithmic gymnastics (factors like Twitter followers and LinkedIn profiles certainly play a role) to pair you with like-minded entrepreneurs—perhaps you could meet the Eduardo Saverin to your Mark Zuckerberg.
All you have to do is list the days you're free for lunch (probably once or twice a month), and they'll send an email letting you know who you'll meet, five options of where to meet them and when.
Once the lunch is over, you'll rate each other with a single number from 1 to 10. The higher your reputation, the more prominent your lunching company will be—think: entrepreneurs, angels and venture capitalists.
Martinis might help with the ratings.