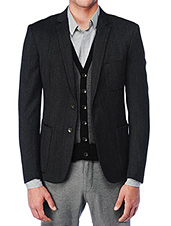 We think we know what you're going to do tomorrow. Hint: it involves one-of-a-kind shirts and jackets, midday drinking and, we're told, balmy tropical temperatures.
Okay, maybe not all of those things.
Presenting
The Rag & Bone Rickey Event
, taking place tomorrow at Lost Boys in Georgetown to bring you fine hooch along with fine cotton.
You already know Rag & Bone for its "English rock star on a day off" vibe (Thom Yorke is a fan, but you can be less morose and still wear this stuff well). Hanging out tomorrow will be the Brooklyn-based tailor who hand-sews shirts and jackets for them. Think ultra-slim-fit shirts with metallic buttons for your late-night DJing sessions, and deep-V blazers with single-button cuffs for when you absolutely need to impress the folks at the Italian embassy.
And we're happy to report that a bartender from Bourbon will be on hand to mix you a rickey (which is your go-to daytime cocktail anyway).
Plus, we have it on good authority that some other Rag & Bone folks have promised to bring some of their spring line that won't be available to the public until March.
Just in time for your annual trip to Mallorca.