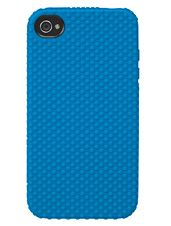 You live by a few simple, unbreakable rules.
Never feed a mogwai after midnight. Never go in against a Sicilian when death is on the line. And perhaps the most important one: whenever possible, play ping-pong.
Helping you with that last rule: the
iPhone Ping Pong Cover
, your new way to never miss an opportunity to slam a white ball around an empty boardroom, now available.
So let's say the idle hands of time grip you and a buddy by the throat, and you both feel the walls of your adjoining offices closing in on you. Simply lean over and perform the secret knock that signals it's game time. (Remember: it's two quick knocks and a thud for pong, two quick knocks and a thump for "Let's say we have a meeting and just go to the bar.")
You'll reach in your desk, open up the secret compartment containing your pong balls (which double as Beirut balls), slide one of these covers over your phone and head to the conference room. The raised pattern on the skin gives the ball the same topspin fury as your Flexolite paddle at home (in spite of being sans handle), so you'll feel as comfortable as a young, high-and-tight'ed Forrest Gump as you and your coworker rally.
Go ahead, use copies of the annual report as a net.