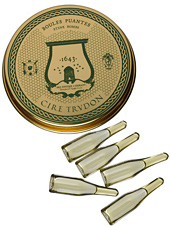 It's important to maintain a well-balanced flair for the exotic.
Your winter tuxedo: discreetly lined with Peruvian alpaca hair. Your aftershave: gently infused with your own brand of bespoke pheromones (you know a scientist).
And honestly, your stink bombs shouldn't be any different...
So in that spirit, we'd like to point you in the direction of
Cire Trudon Stink Bombs
, your new deceivingly monikered weapons of mass air-freshening destruction, available now.
To be clear, yes, these things actually smell good.
In other words, feel free to think of this as the world's first reverse stink bomb—all cleverly disguised in a tiny, Bond-like tin containing exactly 10 glass vials of perfumed liquid (orange, clove...), all waiting to be dramatically shattered in the general direction of anything that doesn't smell like orange or clove.
For instance, say you're at the prime minister of Zimbabwe's annual gala and have been requested to retrieve some time-sensitive data regarding the whereabouts of an endangered Iberian lynx named Phil (trust us, it's only a matter of time). You'll need to slip past security, but your cologne is a dead giveaway. Problem solved... whip out a vial, roll it under Guard #1's feet and boom: instant nasal smoke screen.
Okay, so that was a stupid example. Maybe just think of it as a really cool way to make things smell good.
That, or the French version of Febreze.