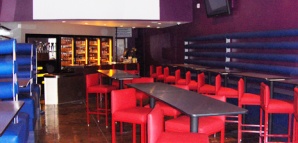 Your interest in sports bars wanes between March and September.

And even in prime months, you generally know what to expect from your local sports dive, and you're fine with that.

Prepare to be surprised by Coffee Table Lounge, a surreal new genre-defier that's now open in Eagle Rock.

Upon entrance, your eyes will take a moment to adjust to the surroundings—purple walls, red stools and oversized blue booths with tubular backs resembling goalpost covers. Towering over it all, in addition to a couple of regulation flat-screens, is an 8-by-12-foot screen to remind you that you are, in fact, here to see the game. But not before you inspect the glass-doored coolers behind the bar—the place used to be a liquor store—to select from over 100unique beers like Brother Thelonius and Moylan's Kilt Lifter.

If purple-encased sport-fandom makes you hungry (and how could it not), try a pair of Tuscan-Style Tacos with some Parmesan and Basil Fries. Come summer, you'll be able to escape to a hidden, walled-in rear patio at the end of the hall shared with Coffee Table Bistro next door.

Because sunlight and sports bars can go together.