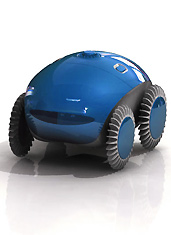 Usually, we bring you new places and things. Today, we're bringing you an almost-new thing. A concept product. Hence the title "High Concept." Enjoy, and happy Wednesday.
Going to a spa is great. The candles, the robes, the nudity.
But sometimes, at the end of a tough day, all you want to do is crack open a beer, sprawl out on your living room floor and allow a robot to massage your back.
Thankfully, that time has come. Almost.
Say hello to the
WheeMe
, a nimble robotic gadget that deftly kneads your tensions away, coming soon to your back.
Yes, that's right: we now have robots to massage us. Like something out of a Spielberg film, this tiny massage-bot uses sensor technology to guide itself over your muscle-toned body to gently administer a delicate rubdown.
Using it is simpler than visiting a local parlor: just insert three AA batteries, place the four-wheeled soother on your back and let it go to work. It'll run up and down your spine, sort of like a remote-controlled car, putting light pressure on your kinks and sore spots. (And don't worry about it falling off: it comes with a special tilt sensor that prevents it from taking a tumble.)
But because your back isn't the only place on your body that requires TLC from a nonhuman, the WheeMe will happily massage your stomach, chest and legs too.
Although you might have to tip it to do that one spot.
You know: your feet.