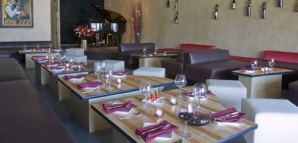 Experimentation often leads to what the experts call discovery.

We're referring to drinking wine of course, and the proprietors of Vinoteque, a new wine bar-slash-live-music venue now soft-open in Culver City, are creatively uncorking their curious and formidable supply to encourage maximum experimentation (and hence discovery).

At Vinoteque, you can order a glass of any wine in the place—about 500 options from Croatia to Australia to South Africa—and once the bottle's uncorked, its name is displayed on a pair of digital screens so your neighboring protégés know the rest is up for grabs. (Co-owner Adam Fleischman was involved with the launch of the similar—if less high-tech—dispensation technique utilizing an oversized chalkboard at fellow Culver City bar BottleRock.)

When you're through by the bar, aim straight for the larger adjacent lounge, where the cork ceiling from Silver Lake Wine designer Ana Henton both continues the wine theme and acoustically assists the musicians onstage. (The name combines "vinoteca" with "discotheque.") And if you come back in the morning, you'll find pastries and coffee.

But Vinotecafé just wouldn't be as catchy.