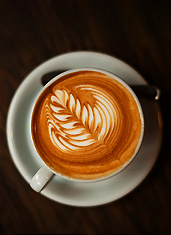 We've crunched the numbers. Compiled the data. Had a brainstorming session with Encyclopedia Brown.
And research shows, you love a good underground experience. Also, coffee.
So we figured you might be interested in hearing about a small, unmarked van quietly tucked away in an undisclosed location... and the things that happen inside of it.
Actually, it's a pretty well-known parking lot. And coffee happens inside of it.
But still... behold
Rattletrap
, the city's first and only coffee truck and the site of your next covert Intelligentsia mission, slated to open Wednesday behind Emory Village.
First off, this truck is a prelude for what the owners—all former Octane baristas—have planned: a new coffee shop called
Steady Hand Pour House
, opening in January at the exact same location (apparently a two-month coffee pilgrimage to Australia can be inspiring).
But until that time, you'll want to look for a caramel-colored '82 Volkswagen Westfalia (yes, that's a pop-up top you're seeing). Stroll up to the side, exchange a few pleasantries and choose from all manner of macchiatos, lattes and americanos, all crafted by the barista equivalent of ninjas (yes, they're that good).
And turns out, the VW coffee bus patrol (okay, the city powers that be) isn't letting the van roam free just yet... but once it does, you can expect plenty more '82 Westfalia sightings on our streets.
And so the drive-by coffee-ing was born.