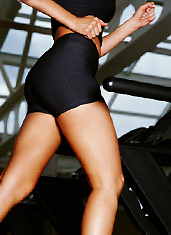 Prediction for 2011:
Immediately after the new year, you'll leap into a new relationship full of hope and promise. It will end like all the others. Too many airport bars. Too many strange hotel rooms. You'll drift apart.
In the end, it's your abs that suffer. It's always the abs.
So consider getting your next personal trainer here:
InerTrain
, where, thanks to the Internet, your trainer is always with you. No gym required.
This is basically Match.com for you and fitness gurus. You'll go online, fill out some questionnaires and choose an instructor based on their biography and specialties. But unlike a dating site, you'll never meet in person and you'll actually be interested in people describing themselves as "a drill sergeant."
Then, you'll start getting customized workouts over email. The trainer monitors your progress via online updates—go ahead, upload pictures if you'd like. And when you're flying to Fiji on some last-minute business, your trainer will contact your hotel, find out the kind of equipment they have in the fitness center and design a routine for you. If there's no fitness center, they'll create a program with anything you have access to.
They know exactly how many coconuts you'll need to bench-press.