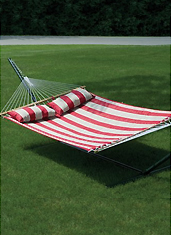 Temperatures in the 70s: a distant memory. Temps in the 60s: now just a nice surprise. And the overnight lows: well, you'll have to put clothes on.
Which means just one thing: it's hammock weather.
Introducing
The Heated Hammock
, a new, indispensable piece of cold-weather gadgetry, available now to extend your summer sleeping habits through the winter.
If you've been wishing lately that your November were more like your June—the morning paper under a tree, post-BBQ naps under a tree, late-night canoodling under a tree—then this can help.
After getting it all set up (warning: tree not included), you'll plug in the battery pack and recruit a testing companion. When you finally climb in, you'll find it has what all quality hammocks have: a couple of built-in pillows, a half-inch of quilting and a lot of stability for when you lean over to pick up your drink.
But it goes above and beyond by putting out up to four hours of heat on the lower setting, or two-and-a-half hours of fun on high, which puts out a blazing 122 degrees of winter-defying energy, concentrated between your shoulder blades and your lower back.
Unless you're facedown.