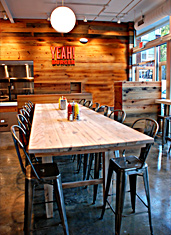 There are certain things in this life you're willing to apologize for.
Accidentally skydiving into restricted airspace... one of them.
Proudly welcoming yet another burger joint into our fair city: not one of them.
So let's break out the bison meat, order up a Sazerac and accept our glorious fates together.
Starting with the reintroduction of
Yeah Burger
, your bigger, stronger, Virginia Highland...er version of the Westside flagship, opening Monday.
It's tough to argue with the persuasive powers of a bison patty laced with fried eggs and roasted garlic aioli, so you'll be happy to hear that things are pretty much picking up right where they left off out West—communal wooden tables, floor-to-ceiling windows and a cocktail list more reminiscent of a rooftop bar than a burger spot.
Only this time around, you'll want to purposefully beeline outside to one of the bar-like tables directly facing the people-watching circus better known as the corner of Virginia and North Highland. Once there, you'll kick back with a
Critical Mass
(Tuaca, Chimay White beer, OJ) while you wait for your double stack pimento burger with sunflower sprouts and nitrate-free bacon to show up.
You only people-watch with nitrate-free bacon.