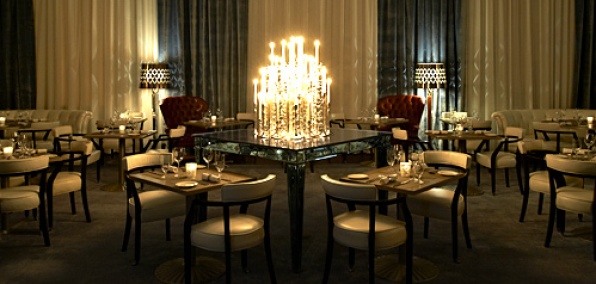 Ah, the Delano.

The curtains. The history with Madonna. The cougars.

It's a great hotel. But you've always felt it lacked a little something. Not elegance or class, exactly. More like: omega-3s...

Presenting Blue Door Fish, your new spot for lobster blowouts and Heat sightings, now open at the Collins Ave hotel.

No longer is this place a French fusion spot with white tablecloths (aka Blue Door). Now, it's a more casual (and slightly less expensive) restaurant that's perfect for a first date or a fancy dinner with friends.

To reach it, you'll make your way through the lobby bar to the dining room, which still looks a bit like a sexed-up fairy tale. The huge sheer curtains are still there (phew), but now there's a vintage glass chandelier hanging over the center table (you rarely dine chandelier-less).

From there, you'll order a bottle of New Zealand chardonnay, some Scallops à la Plancha and the Whole Dover Sole topped with toasted almonds and capers. It's all overseen by the Michelin-starred Claude Troisgros, who's like the Emeril of Brazil.

And you might even run into a member of the Heat. Over the weekend, Chris Bosh toasted his victory over the Magic with a massive entourage until 5am Saturday morning.

Your invitation must have gotten lost in the mail...