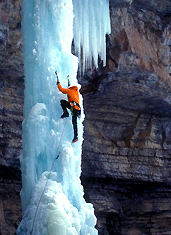 It takes a lot for you to declare a sport "extreme."
If it doesn't involve waterskiing in great white-infested waters while wearing a tuxedo while juggling champagne sabers, it's just a sport.
But frozen waterfalls are a good start...
Introducing
Utah Mountain Adventures
, a privately guided climbing expedition up an ice-covered peak, taking reservations for December now.
Every winter, the waterfalls of the Wasatch Mountains freeze over. And sure, your natural reaction to this geological event is to head south, where the waterfalls are still wet and typically occupied by swimsuit modeling shoots. But that'll wait. You've got a precariously steep mountain covered with ice to ascend first.
If a lazy weekend for you is climbing K2, go ahead and tackle the W5+ Stairway to Heaven: 800 feet high, inverted and with the traction of a hockey rink. If you're concerned about losing valuable après-ice mountain time, you can opt for a climbing clinic, where you'll learn the fine points of scaling waterfalls: like what to do in the event you come across a yeti.
With axes in hand, crampons on feet and "Danger Zone" on iPod repeat, you and your private instructor (bestow him with a proper Sherpa name) will set out to conquer. Your trip starts with a short hike (extreme rating: 1.1/10) before anchoring into a sheet of ice and climbing several hundred feet into the air (extreme rating: 9.3/10). Eventually, you'll reach the peak, plant your flag and either repel or glissade (that's a graceful way of saying slip and slide) down.
Which gives you an idea for another extreme sport.