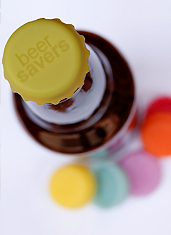 The post-it note. The zipper. Auto-tune the news.
The next life altering idea doesn't need to be complicated. All you need is a little inspiration… and/or some cold beer.
To help you with both: we present
Beer Savers
, the most ingenious use of silicone since
Baywatch
. Yes, they're seemingly just tiny colorful caps that fit snugly over your bottle of beer. But the implications are staggering.
First, of course: no more flat bottles of beer in your fridge. So say it's a Monday night, you're sitting on your couch, and you're really savoring something blonde and Belgian… also, you have a half-finished beer. Slip one of these out of your wallet and seal up your brew. Voila, your beer will stay nice and frothy for another ten days.
Now imagine this more frightening scenario. You're out at a Halloween party this weekend. You're enjoying the attentions of a Zombie Lady Gaga and a Zombie Joan Holloway. Things are starting to get… a little crazy. Ok, that's not the frightening part.
Suddenly you realize The Zombie Situation has put his beer next to yours. Pick up the wrong one and you risk a serious case of… you don't even want to know. But because you used the Beer Saver, you know which bottle is yours.
Zombie
Jersey Shore
outbreak averted.