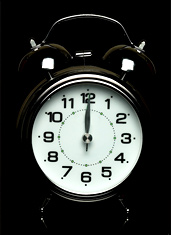 Mornings are tough.
In a small amount of time, you have to: wake up, get out of bed, check the weather, put on some clothes, say good-bye to sleepover buddies and get Sly Stallone's wisdom
via Twitter
.
But we're here to tell you it can be done. And you might even have time left over to check on your Carl Weathers feed.
Introducing
Zazu
, the Boston-born app that's an alarm clock, appointment reminder, news feed and Twitter reader all in one, launching today for Android phones.
Basically, think of Zazu as a pocket-size version of Jarvis, Tony Stark's computerized assistant from
Iron Man
(or, if you prefer, imagine a tech version of the imitable Jeeves).
Step one: download it. Step two: sync it with all your stuff. Step three: hit the hay. Step four: wake up. You'll hear an alarm, then a voice greeting you, thanks to Android's text-to-speech engine.
As you wobble out of bed and reorient yourself to life, this voice will tell you about your upcoming meetings that day, the result of last night's Bruins game... and even the temperature outside.
Should your weather intern be unreachable.