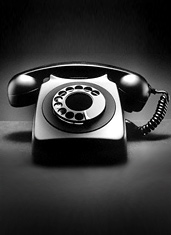 You've always said it: nobody delivers a compliment like the Canadians.  
And now, at last, someone agrees with you...  
Introducing
Flatter Me
, a new service that lets you send complimentary phone calls from real-life Canadians, available online now.  
Now, we know: it's not that you don't care enough to make the call yourself. But you didn't get to where you are now without some proper delegation. So when the situation dictates—you forgot a birthday, a movie was made about your social networking website, you want to thank Bernanke for bailing you out—you bring in the professionals.  
First, you'll go to the website, and tell them who you want them to call and the message you want delivered. Keep it to about 30 to 60 seconds and keep it clean—they refuse to transmit any messages deemed offensive. (So maybe lay off the curling jokes.) Once it's approved, a very polite, soft-spoken Montrealer will get on the horn for you and deliver the goods (with or without an "eh").
For a quick, well-meaning blast of flattery ("Congratulations on being the first person to moonwalk on the moon"), you'll opt for the one-time $5 call. However, should the situation require a more delicate, persistent touch (the kind best entrusted to the Canadians), you may want to spring for the $10 package, which includes a month's worth of weekly calls.  
And a backyard concert from Bryan Adams.