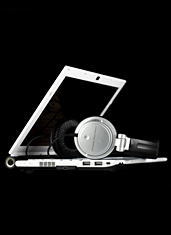 You're no Mark Zuckerberg. We know that. The hair alone...
But you do have a lot of friends.
And your life is quite cinematic.
So it's probably inevitable: someone's going to make an unauthorized biopic and you won't have very much control over it (spoiler alert: the scene with the Estonian twins, the Swiss chalet and the Komodo dragon makes the final cut). But you can do this: start working on the soundtrack.
Introducing
Playlistnow.fm
, a new website that allows you to choose the perfect song for whatever you're doing, feeling or being motivated by at any moment in the nonstop action-comedy that is your life.
Here's how it works. You go to the site and type in your current mood—let's say it's "gloomy." Suddenly, you can wallow in a playlist ranging from Carole King's "You've Got a Friend" to Death Cab for Cutie's "I Will Follow You into the Dark." On second thought, let's try something else.
Say you're having an intimate dinner party for three (and we're not even counting the dragon). You'll type in "romantic dinner," and hear a playlist that ranges from Marvin Gaye to Frank Sinatra to... Frank and Nancy Sinatra.
Because the site draws on Web sources for music, there's a limitless supply of content, though you can still add your favorites.
Or the dragon's.